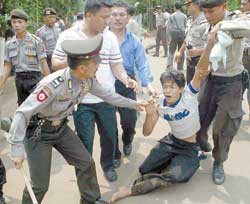 Berdasar pengalaman dengan polisi kemarin, ternyata saya nyadar kalau kita belum tahu betul hal-hal apa saja yang boleh kita lakukan dan tidak boleh kita lakukan ketika ditangkap polisi. Ini sangat berbeda dengan Amerika yang warganya sudah dididik soal hukum dan hak-hak tersangka lewat acara TV dan film. Dari TV dan film, saya justru lebih banyak tahu kalau di Amerika tersangka tidak boleh ditahan lebih dari 2 × 24 jam, tersangka boleh menelepon satu kali, dan tersangka boleh tidak menjawab pertanyaan penyidik. Dan yang jelas, ketika ditangkap, tersangka selalu dibacakan Miranda Warning yang terkenal itu:
You have the right to remain silent. Anything you say can and will be used against you in a court of law. You have the right to be speak to an attorney, and to have an attorney present during any questioning. If you cannot afford a lawyer, one will be provided for you at government expense.
Sayangnya di sinetron Indonesia, hal-hal teknis ketika ditangkap polisi nyarist tidak pernah masuk cerita. Paling yang ditangkap nagis nangis atau marah-marah, sementara polisi digambarkan sebagai figur yang kering, otoriter dan kaku. Acara kriminalpun tidak lebih mendidik: dalam acara seperti itu, entah kenapa, polisi justru ditampilkan seperti tidak berperikemanusiaan dan kejam ketika menangkap tersangka yang biasanya dari golongan ekonomi bawah.
Mungkin ada rekan yang tahu, apa hak-hak kita ketika akan ditangkap polisi (terlepas kita salah atau tidak)?